I let my dogs out, around 2:30 am, and about 5 minutes later, let them in again. There was a very cold wind storm raging, and as soon as the dogs came in, I got into bed and kicked off the lights to see if I could go back to sleep.
Then around 3 am... I hear my screen door open and someone knocked on my door. Neither, AU nor Jaya barked...but stood there and growled. I live alone, so it scared me - I do live close enough to a highway that my house can be seen and it's really dark here as neither my 2 neighbors nor I, use over head lights to light the area...but the Dept. of Transportation's big lot lights do lighten up the north side of my house a little.
Anyway, I did not turn on my lights...incase someone was trying to see into the house via the cracks in the window blinds..and I yelled. "WHO'S THERE?
Nothing... So I repeated this at full volume about 3 more times and nothing...and the dogs are still growling and looking at the door and I pulled my revolver from the nightstand.
and with my 4th yell... I said... "I have have a handgun... Do NOT try to come into my house!" and again I yelled "Who's Out There!?"
Then I hear a woman's voice i recognize, "It's your neighbor...*gives her name*....and then a garbled...
"....house is on fire!" The wind was blowing and it was really loud...so that is why they were not hearing me, nor I them...plus when I opened the door there were fire trucks and other vehicles up my alley.... they had come without sirens to the fire.
(there's almost no traffic here at 3am...so no reason to wake everyone up with sirens).
I still didn't know if they meant the south side of my house was on fire...or if their house was on fire. I stepped out of my house and looked over and their house was engulfed in flames. : ( I was sooo terrible... I started crying for them.
The two young women were in thin dresses...so I went into my home and grabbed them some blankets and we walked up my dirt alley towards the road...not actually walking in the alley as it was too close to their house...but off the side of the alley were there is an abandoned single wide trailer who's yard runs along side my alley.
We meet up with the husband/dad of the women...he managed to get out of the house with a heavy shirt and blue jeans...I offered him a blanket too, but he said he was ok. They own 2 dogs, a blue heeler puppy named Bindi, and a female Rottweiler named Freya. I asked if they were able to save the dogs...and they said they got both dogs out, but then Bindi panicked and took off...but they were able to find her in about 15 minutes and both dogs were safe in their pick up truck that they managed to get out of their drive way and into the drive way of another neighbor close by.
I am just so glad everyone got out ok...but so sad for them. They had just finished remodeling their kitchen, and last week, they took out the sliding glass door that I can see from my back yard...and they replaced it with a French door. Plus they tore out the smallish wood deck...and they were working on a larger tiled patio that had a few stairs leading up to the French door.
Here are some photos...of what's left of their home.
Street View...front of the house: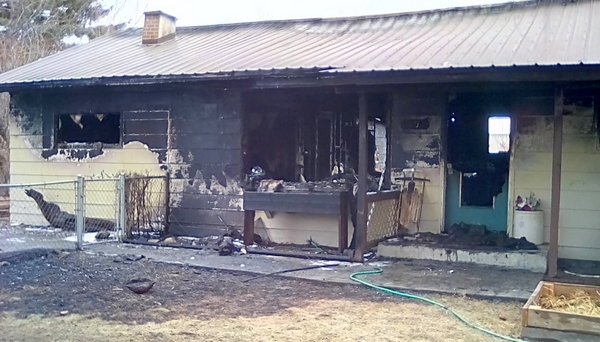 View from my backyard...their backyard...you can see the stacks of new tiles they were going to use for the patio...the French doors they installed last week are totally gone. : (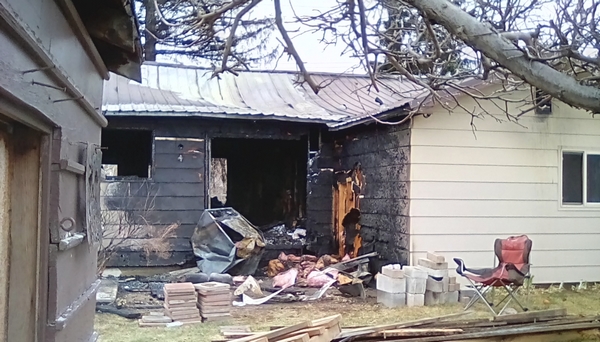 Close up of damage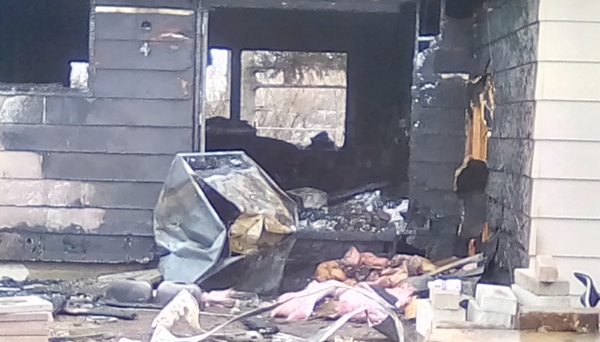 The super strong wind...almost had the huge pine trees in front of their house in danger...the firemen were watering those trees down...I was lucky that the wind was blowing away from my home and not towards it, as there is a propane tank between our homes and also some still dried out from winter trees and bushes. Even standing on my back porch with the strong wind blowing the fire the other direction I could still feel the heat from it.
They finally got the fire out around 5am...but the firemen stayed there until around 7 am...which is about the time I went back to sleep. I woke up at 9am, and took those photos around 10 am. It was still blowing a cold wind and raining slightly...it also got cold enough that we had a very light trace of snow showing in some areas on the ground but the rain was melting it.
I've offered to let them shelter their dogs at my home if they needed too, and told them too, that if they needed anything else I could help them with, then to ask. I don't have much, but I can take in one of them at least if they were in need of a sofa to sleep on....and I told them in the following days, if they were doing stuff around their property they were welcomed to come over and get warmed up...have a cup of coffee...use the bathroom or what ever. But they said they should be able to find some help from family around town...I just wish I could do more for them.
Stormy